Imrich Brezanský (1921)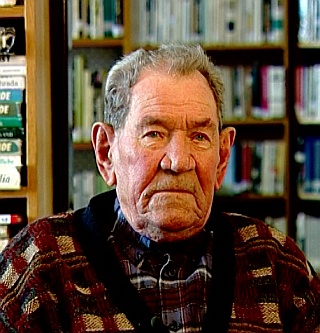 Biography:
"People who want to climb up on your back are the sneaky ones."
Imrich Brezanský was born on October 24, 1921 in the village of Maňa. As his father and grandfather passed away when he was only a child, he had to start helping her mother care for their homestead very soon. Despite various difficulties they managed their homestead very well in the period of the Czechoslovak republic; however, the situation changed after the year 1938, when their village was ceded to Hungary under the Vienna Award. His mother learnt foreign language when she had been in service in Budapest, Imrich was forced to learn it after being conscripted into Hungarian army in October 1942, when he joined up the 24th regiment in Transylvania. He didn't experience ethnic persecution in army because Slovak and Hungarian soldiers had to live in equal conditions. He belonged to the Carpathian mountain border guard operating near the Romanian borders for two years; however, as a consequence of political-military development he was sent to the front in September 1944. Hungary wasn't able to halt approaching Soviet troops, so Imrich and other soldiers were taken captives soon. At first he spent several weeks in concentration camp of Focsani at the Romanian borders, where were about five thousand captives. There were really tough living conditions and their hope that their conditions would improve after being transported to Russia proved to be vain. Captives often died of cold, hunger, and exhaustion in Russia, but Imrich managed to survive as he served in a camp in Chelyabinsk as an interpreter. From May 1945 he and several captives of Hungarian origin worked in a factory producing army tanks. Shortly after the end of war in Europe, the Soviet Union began releasing captives and Imrich was sent home from the Soviet Union in the second transport in October 1945. When they were going through Budapest, he took the earliest opportunity and set out for his own way home, where he managed to arrive on November 25, 1945.
Life after Hungarian Troops Arrival in the Country I
Life after Hungarian Troops Arrival in the Country I (data format Flash Video)
"We, the older boys, met on the street. We were about eighteen years old. As I was born in 1921, in 1938 I was seventeen, almost eighteen. And we met there. And what would we do? We were young boys. Then, in 1938 the Hungarians took over everything there. The Hungarian authorities took power. I wasn't attending school at that time, so I didn't learn Hungarian. Then I worked with my mum on our homestead. Later, in 1941 we were being conscripted. It was Hungarian army and we had to join up. We were nineteen boys who enlisted that May. It was in 1942, on October 1, when I joined up the 24th regiment in Erdély, actually it was Transylvania, but the Hungarians called it Erdély."
Life after Hungarian Troops Arrival in the Country II
Life after Hungarian Troops Arrival in the Country II (data format Flash Video)
"Some people had escaped to Slovakia, some. One, who enlisted with us, was a soldier for two years, but as he had brother in Slovakia in Hlinka's Guard he left Hungarians and crossed the borders. The border was near the village of Vráble then. I don't know where I would go. I had nobody there, no acquaintances, and no relatives. Thus I even returned after our vacation, which we had before we went to the front. I had three days off. Actually I got five days, but I spent two of them travelling. Our borders were down there near Brašov. And the Romanians always grumbled as they were angry with the Hungarians, who annexed the territory of Transylvania, or Erdély in Hungarian. Then, three or four times a year Romanians tried to overrun the borders."
My Experiences from the Hungarian Army
My Experiences from the Hungarian Army (data format Flash Video)
"What were the conditions in the Hungarian army like?"
"What. I didn't speak Hungarian at all. I even didn't know how to ask for some bread or water. And an old soldier kicked me in the butt, 'I will kick you in the butt, so that you will fly like a bomb!' If I translated it, it would sound much better than in Slovakian, it also had a bit different meaning and accent, everything."
"You had Hungarian commanders, didn't you?"
"Well, how to say it. There also were some clear-headed people and those who acted as gentlemen. Well, I can't say I fared badly while being a soldier in Hungarian military. I fared like anybody else there, like the Hungarian boys. Then, I was the only Slovak boy in the company. I got along well with them, undoubtedly. I also learnt Hungarian as there were some wise commanders, who mainly had been teachers before they joined up, pedagogues. They were conscripted just like we were. At that time Hungary was on the increase, it annexed a part of our territory, which we called Felvidék. Later they annexed also the territory of Transylvania, and Yugoslavian parts of Baja and Bačka. And they needed to overrun the borders everywhere. Some of the officers, who came later, were the civilians. They had worked as teachers or something like that before, I don't know. I didn't mind it. I have to say the truth, I was glad to stay alive. Among those Hungarians, I did everything they did, so when they lay down I lay down as well. I can say nothing wrong. Those were worse who acted as lance corporals or corporals in the cell. They threw their gat to us and do out. And again. Do out. Or we had to drink a cup of water, because otherwise they smudged our carpet. And such stupidities. It also was the same in the Czechoslovak army. Old soldier and raw recruit. And we did the same when the new recruits came."
At the Front Line
At the Front Line (data format Flash Video)
"We really had fear, we were forbidden to do so and we witnessed that if somebody wanted to approach the Russians, you know, when the front stopped, Russians were there and we here. So if somebody wanted to walk the dell or just a part of it, it was a mistake as Russians took no captives. They shot a man down and done. We also had such experiences. Then, one by one, they seized a huge part of it, naturally as there were about a million of them. And who would stop them? One preached to us, 'Our obligation is to defend the great Hungarian nation.' But who could defend them when there were about a million enemies?"
In Russian Prison Camp
In Russian Prison Camp (data format Flash Video)
"We were gathered at the Romanian borders, oh, what was its name, that concentration camp... It was well-know, oh, I will recall its name later. We were there along with some other nationalities, even Jews were there and also Germans, Italians, Austrians, and Frenchmen. All the people taken as captives by Russians were concentrated there. A narrow rail ended somewhere there. Focsani, I have just recalled its name. It was a village of medium size located in the border area. They settled there and changed the village into a camp. And all the captives were concentrated there."
"How many captives were there?"
"There were about five thousand prisoners of war; however, they were gradually being sent to Russia for labour. An order was delivered. Just like we were arriving there, we also were leaving. Once a day we went with a mug for a soup, which had been cooked for us. We had to walk as there was no room to sleep. There were no plank-beds, because the camp had been built on grass. Outside on the ground. We only could cover ourselves with a coat. We lay on a half of the coat, so one half down, and one half up on us. We hadn't been for a long time there; we spent about three weeks in the camp. I have just told what its name was... Then, we better went, because we thought that going to Russia would be a better choice for us. However, Russians themselves had nothing to eat. Then, we found a billet. At first we went up beyond the Urals, to Sverdlovsk city. In Sverdlovsk there started an arterial railway, which ended in Vladivostok. I experienced various things. It was really cold there. People were dying there quickly. When we came there were 1,500 Hungarians and more of them were dying there than at the front. We had nothing to eat, nothing to make up the fire of.
Return Home
Return Home (data format Flash Video)
"It was Stalin's order. At first only sick people were released. They went home in July or in August of 1945. 'Jechali domoj!' I mean the prisoners who were ill. And the healthier ones had to keep working. We were released in October. An order to release the Czechoslovaks came at the beginning of October. However, if I once was with Russian, then I was checked almost every year... 'Kakoj naciji?' I could say I was Hungarian. But I said I was Czechoslovak, because they didn't know who the Slovaks were. They knew the Czechs as well as Czechoslovakia. If a man said he was a German or a Hungarian, he wasn't clean anymore. When they started with checks and I said I was Czechoslovak, I remained Czechoslovak. 'Kakoj naciji?' Czechoslovak. I was sent home in a second transport. At the same time six cars with the Austrians left the camp and the rest were Czechoslovaks. Fifteen cars with a hundred people in each left the camp that day."
The story and videoclips of this witness were put together and published thanks to the financial support of EU within the programme Europe for Citizens – Active European Remembrance.