Sister Zdenka Schelingová (1916 - 1955)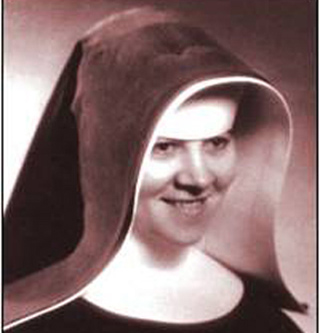 Biography
"Forgiveness is the greatest thing in life"
Cecilia Schelingová was born on 24 December 1916 in Krivá in Orava, the mountainous region of northeastern Slovakia. She was one of 10 children born to Pavol Schelingová and Zuzana Pániková. From an early age the children acquired a sense of responsibility and of sacrifice from their parents and, above all, a deep and practical faith.
Cecilia attended the local elementary school from 1922 to 1930. In 1929, the Congregation of the Sisters of Charity of the Holy Cross arrived at Cecilia's parish, and the presence of the order helped her to see that God was calling her to religious life. She was particularly impressed by the Sisters' unconditional love and disciplined lifestyle.
In 1931, when Cecilia was 15 years old, she went to the motherhouse of the congregation in Podunajské Biskupice, accompanied by her mother, to ask permission to join the order. However, before her entry into the novitiate in 1936, she was sent to nursing school and then took a specialized course in radiology. On 30 January 1937 she made first vows and received the name "Zdenka".
Sr Zdenka was remembered by her Sisters as a person who lived continually in God's presence, both in prayer and work. She once wrote: "I want to do God's will without paying attention to myself, my comfort or my rest". She demonstrated love and compassion to everyone and was always ready to serve, especially sick hospital patients.
Her first nursing experience was in the hospital in Humenné, near Ukraine. In 1942 she was transferred to the hospital in Bratislava, where she continued work in the radiology department.
In 1948, while Sr Zdenka was in Bratislava, the totalitarian Communist regime began. As a result and until 1953, the Catholic Church was deprived of all rights and her members persecuted. During this period, prisoners were sent to the hospital to receive care, priests among them. One day, Sr Zdenka understood that one of the priests, accused of being a Vatican spy and of betrayal, was going to be shipped to Siberia where death would be awaiting him, and so she acted at the risk of her own life: she slipped sleeping pills into the guard's tea, allowing the priest to escape. After he was free, Sr Zdenka went into the chapel and prayed: "Jesus, I offer my life for his. Save him!".
Some days later, however, on 29 February 1952, when she tried to help three priests and three seminarians escape, her plan backfired and she was arrested. She was interrogated and suffered many humilations, including being brutally tortured by the police. She finally received a sentence of 12 years in prison and 10 years of civil rights' deprivation. The torture that she underwent left her body mutilated and her right breast torn apart from the continual kicks by the police.
From 1952 until 1955 Sr Zdenka was transferred from one prison to another. She accepted torture and mistreatment with great humility; most difficult of all for her, however, was being deprived of the Holy Sacraments for the three years of her imprisonment.
On 16 April 1955, Sr Zdenka was released from prison by the President of the Republic so she would not die there (she had a malignant tumor in her right breast). When she returned to her congregation's motherhouse in Bratislava, she was not accepted because of the general situation of fear that existed at the time as well as the constant police surveillance; nor was she received in the hospital of Bratislava. Instead, a friend from Trnava took her in. Sr Zdenka was eventually accepted into the hospital of Trnava. On 31 July 1955, after receiving the Sacraments, Sr Zdenka died. She was 38 years old and is remembered as a true martyr of the faith.
One final note: On 6 April 1970, the regional court of Bratislava declared that Sr Zdenka was innocent, having received a "false and artificial accusation... issued [with a] sentence of high betrayal... based on facts manipulated by the state police themselves".
Source: http://www.vatican.va/news_services/liturgy/saints/ns_lit_doc_20030914_schelingova_en.html
Meeting Sister Zdenka at the Hospital
Sestra Zdenka Schelingová - Meeting Sister Zdenka at the Hospital (data format Flash Video)
"When I asked her, maybe for the third or fourth time, what her name was, she told me: "I am sister Zdenka Schelingová." That´s how we became friends and during the re-bandaging, when the doctor came I looked at the awful surgical wound, which she had on her right side. I saw that she underwent a breast amputation, but I couldn´t understand, how a nun can have her breast amputated. I considered her as a nun to be an untouched woman and it was very strange to me, however, I didn´t want to ask anything. It was just very odd to me and I thought to myself: well, I shall wait and maybe later, sister Zdenka will be my closer friend. And that´s what followed."
Prayers for the Persecutors
Sestra Zdenka Schelingová - Prayers for the Persecutors (data format Flash Video)
"Sister Zdenka was always immersed into prayers. She tirelessly prayed the whole day, from the very morning until the evening. And one day I asked her: "Sister Zdenka, excuse me, but for whom are you praying so dearly?" And she answered: "Well, firstly I am praying for those who have tortured and humiliated me. I am praying so that God would soften their hearts to stop them from repeating of what they have done to me." This was when I saw that she had to experience a horrible investigation."
Transport into the Brno Hospital
Sestra Zdenka Schelingová - Transport into the Brno Hospital (data format Flash Video)
"One day a commander came and she said (to sister Zdenka): "Prepare yourself, because you will be transported." And I asked her: "Transported? Why? She isn't able to travel yet!" But she answered: "That's the command. Pack your stuff and you are going to leave tomorrow." And I kept asking: "Where?" "Into the Brno Department of Oncology." Then it became clear to me that sister Zdenka has a cancer. It was a horrible time for me; however, she accepted it all with such a courage and determination that I admired her greatly. She was so calm."
Secret - the Reason for Torture
Sestra Zdenka Schelingová - Secret - the Reason for Torture (data format Flash Video)
"When being at the hospital in Bratislava, they brought a patient to our department who was battered and really hurt and I didn't understand what happened to that man. Only when I saw the police escort I realized he was the examinant. So I helped him, I dressed his wounds, washed him, changed his clothes, and I was very curious who was it. Yet, in an unguarded moment he told me: "I am a priest." I felt like being struck by the lightning. I could see that he was a priest in a remand centre whom the investigators battered so much that he needed to be transported into the hospital. And I kept thinking: how shall I help him? What could I do for him? When he was at the hospital for two days, the commander of the guard said: "Prepare the prisoner. Tomorrow he will be transported." I realized that if this man goes back to the remand centre, he will be battered and investigated again and I decided to help him." So sister Zdenka made such a decisive act. Meanwhile she got in touch with some people that were about to help her, because she wasn't able to do all by herself. And then in the very evening she gave a sleeping pill to the commander who guarded the priest. Of course, the commander fell asleep and the people ready to help her took the priest and ran away with him. In the morning, when the commander woke up, the prisoner was gone and they made a great noise about it. They surrounded the whole prison hospital, the cars of the commanders came, and all of the sisters were gathered into one hall. The biggest investigation, however, had been led against sister Zdenka, because it was her shift that night and she was assigned to take care of that prisoner. So she told me: "I realized that my time has come. Yet until I could, I ran to the prison chapel where I kneeled before the picture, before the cross, before the Crucified, and I prayed: "Lord, please, save that priest. Save his life. I am giving you my life for his life, please, take it." And in a little while the State Security came and took her, arrested her."
The Course of the Brutal Investigation
Sestra Zdenka Schelingová - The Course of the Brutal Investigation (data format Flash Video)
"Well, and after they arrested her, she said: "I came to the prison and it started by kicking. They threw me into one gutter with cold water and a big foot was pushing me down on my chest. I lied in that water upwards and it pushed me down. I was choking, actually, I was drowning and when the man saw I was loosing the consciousness, he put his foot up so that I could take a breath. After that the process repeated the whole night, together with the kicks and the beating, and then they pulled my hair out of the water and holding it they dragged me into one room on a concrete. There they left me the whole night in my wet garment. I didn't even think I could survive that as I was shaking the whole night. But I survived and in the morning the investigation began again. They tore off my garment and naked they tied me up. They tied my hands and legs with a thick rope and raised me by the rack up to the loft. And so naked and completely ruined and cold I was hanging on that hooked nail. Then three men came and battered me with their truncheons, helter-skelter and most of all they hit me on my breasts. Now you know why I had the surgery - because there were tumours all over as a result of the injuries. These procedures were being repeated more times a day. So, now you know my story and you know that going to the Department of Oncology means that I have a cancer. I know that Lord Jesus will come and accept my promise I gave him as I promised him my life for the life of the priest."