Jozef Bobalík (1928)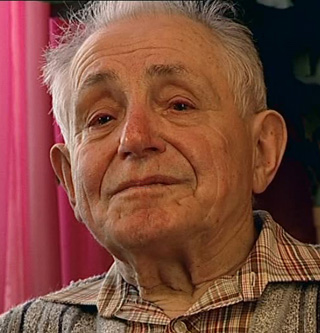 Biograpgy
"Don't cry, mom, I'll surely come back."
Jozef Bobalík was born in 1928 in Lukov, near Bardejov, Eastern Slovakia. His father was a forest worker and his mother worked in a household. He was their only son. In 1938 his father left to America where he died tragically. Jozef along with his mother and her two brothers stayed in Lukov and helped at their farm. Because of the option he and his family left to the Soviet Union, hoping they would find a fertile soil and a great wealth there. However, the opposite was the truth. They were deceived and lied to, because the people who lived there (Czechs) desired to come back home as soon as possible.
When they realized the conditions they were about to face, there was no way to return. Jozef wanted to study, but the situation was very complicated. His suffering began in 1948 at one of his friend´s bachelor party. There an armed and uniformed member of Ukrainian nationalists, who called themselves Banderas, made Jozef to read a leaflet saying: "Death to Stalin".  Few months later he was captured and sentenced to spend 10 years in prison. He spent one year in the prison in Dubno and after the sorrowful journey through Kiev, Charkov, Novosibirsk, and Tajšet transits he worked in labour camps Ozerlag (Siberia), Magadan, and Usť-Kujga.
Arrest
Jozef Bobalík - Arrest (data format Flash Video)
"They turned everything upside down but they found nothing. I don't know what they were searching for but they didn't find anything. At the end of the search, the Captain presented to me a warrant of arrest."
Sentence
Jozef Bobalík - Sentence (data format Flash Video)
"On June 29 I told my story in the court. The prosecuting attorney asked for the maximum sentence of 10 years and two months of losing civil rights. I didn't deserve it. I deserved not even a slap on my bottom. But no word was pronounced to my defence. My defence attorney was not even present."
Deportation
Jozef Bobalík - Deportation (data format Flash Video)
"Everything started when it began to get dark. They called our names from their list. They did not want to forget anybody. We began boarding the wagons; my mother stood about 10 feet away from me. But the guard wouldn't allow me to embrace her. I wasn't even allowed to take my things from her. The only thing I could do was to say: "Don't cry, mom, I'll surely come back."  That was the last thing I said to my mother. That was the last time I saw my mother alive."
Our meals...
Jozef Bobalík - Our meals... (data format Flash Video)
"We had meals really like in a labour camp. For breakfast, lunch and dinner - a soup. For lunch there was additionally 200 grams of mash. In labour camps from Tajshet to Bratsk there were terribly many small flies in the summer. Already when they passed the food to the men at the workplace in the open air, or when they poured the soup into a dish, or they threw the mash with a wooden spoon, it was black filled up with small flies. You had to stirr it with your finger, or drink the soup. But you had to have found it tasty, had to find it tasty, if you wanted to live."
Why Me?
Jozef Bobalík - Why Me? (data format Flash Video)
"I was always questioning myself, would I reach the age of thirty, how is my mother doing alone at home, and why me...  It was the end of my studies, the end of everything. Day by day, even at work, questions were consuming me. One Sunday morning in April 1950 I was sitting alone on a bench in front of the barracks. Suddenly, I don't know from where, an older man came to me, he might have spent many years in labour camps. He greeted me and asked: "Do you have anybody at home?"  -- My mother. "Do you want to see her?"At these words I reacted with the feeling that he might be a helper who could help me to see my mother. And with joy I responded that I wanted to see her. Why should I not want to see her, since she is the only person I have? "Youth, forget that you have a mother at home. Think only about one thing, where could you gulp a piece of bread and not whether you will see your mother. Otherwise you will die like a dog."
Coming Home
Jozef Bobalík - Coming Home (data format Flash Video)
"I knocked on the window the second time. A man returned and asked me harshly: "Why are you knocking? What do you want?" I said in my dialect: "Open the door, uncle, it's me, Jozef."  It was half past three when I entered the house and everybody started to cry."
Meeting the Mother
Jozef Bobalík - Meeting the Mother (data format Flash Video)
"After breakfast I went to the cemetery. My mother did not live up to the fulfilment of my promise I had given to her in February 1949: "Don't cry mom, I will return!" So I went to the cemetery. I could embrace only the wooden cross and tell her that I had returned."