Jaroslav Fabok (1921)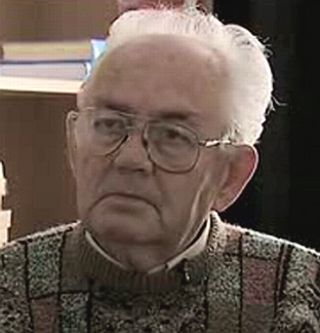 Biography
"Unfortunately, nowadays the words freedom and liberty are often interchanged. A bird can be free. A man can be free as well, but liberty refers to humans entirely. And that's the advantage. I really gained the liberty."
Jaroslav Fabok was born on February 17, 1921, in the village of Silbaš located in the former Jugoslavia, Serbia at present. His mother came from Siberia and father was a legionary who later worked as a blacksmith and peasant. After coming to Slovakia in 1925 he started to grow hop in Dolná Krupá near Trnava. When the price of hop dropped too much, his father broke down and then Jaroslav and his mother were forced to care for the whole family. He started to work when he was a pupil. He attended the municipal elementary school in Kremnica, but in 1939 they moved to Nové Mesto nad Váhom, where he enrolled at the grammar school. At that time he worked in the Tauš Company in Myjava as a warehouseman. He used to act in theatrical performances; he went in for sports and was a member of evangelical youth choir. In 1943 he got into secret British movement and became involved in the resistance group called Flora. A year later, he took part in the Slovak National Uprising as an interpreter, he joined a partisan brigade Pavel led by Grznár, where Capt. Trojan played an important role. As they were partisans, they were captured in the village of Tužiná near Nemecké Pravno and driven to Prievidza, where German unit interrogated them and then transported them to the internment camp in Nitra. He worked as a functionary of the Democratic Party till February 24, 1948, when they arrested and sentenced him to several years of imprisonment. He was investigated at large what gave him an opportunity to flee abroad, to Germany. In a short period of time they elected him to the Central Committee of Czechoslovakia in Frankfurt. Later, he was active as a vice chairman of the Democratic Party in Germany. Subsequently, he became a member of an American intelligence group. He was authorized to do industrial and political espionage. In 1949, on his first mission in Czechoslovakia, they arrested him and drove him to Prague, where he was investigated by the State Security. At first he was sentenced to death, but later the court changed his sentence to life imprisonment. He had spent many long years in various prisons and uranium mines. He formulated his own psychological and philosophical strategy. However, he suffered much more when he wasn't released on the basis of presidential amnesty just like the most of political prisoners in 1960. He was released from prison in 1965. He is still active in the Confederation of Political Prisoners of Slovakia.
In Captivity during the Slovak National Uprising
Jaroslav Fabok - In Captivity during the Slovak National Uprising (data format Flash Video)
"They captured us in Tužiná near Nemecké Pravno. The weather was foggy and as we went along that back road, we saw almost nothing. We were captured by so-called native Germans. It was very dangerous, because when they saw us, they surrounded us and began shooting. There was no way out, they were superior in number. And we were fortunate, because when they took us to the village and wanted to shoot us down near the brook as some partisans, you know, I had my card hidden in the lining of my boot. Moreover, we wore military uniforms and some of us were soldiers indeed. Some lieutenant or first lieutenant of German army saved us. He protected us even with the gun and said: 'No way, they had to be committed for trial.' They opposed. But they could do nothing. So the next day he ordered some soldiers who guarded us in the barn to drive us to Nemecké Pravno. In Nemecké Pravno they founded out that it is not enough, so they transported us to some headquarters staff, to German army unit in Prievidza. They held us in our cells for two days and then, interrogations followed. And it was Sod's Law. A former teacher was there as an interpreter, well, previously we had been in the same crew, but he was a kind of 'leftist'. And when he spotted me, he immediately knew that I joined the Uprising as an interpreter. They interrogated all the other prisoners. I was probably the fourth or fifth one and he wanted to say something. Then I said to myself: 'It is over now.' But right at that moment the telephone rang. It was so interesting. He answered it and suddenly he sprang to attention. 'Ja, ja, ja,' he said in German and rang off. 'Stop everything,' and they suddenly went away. Something like that happened, so they didn't interrogate me there, because even that evening they took and drove us to the internment camp in Nitra."
"Well, Fabok, you have already stopped politicizing."
Jaroslav Fabok - "Well, Fabok, you have already stopped politicizing." (data format Flash Video)
"We were walking through the forest from nine or ten in the evening to the morning to cross the frontier and then, we appeared on some small railway station. You know, Karel Bušek and Láďa Lindtner led us. As soon as we got on the train and sat down, I had a premonition. The train wasn't overcrowded at all. However, I noticed people who watched us. I told to those two: 'Look, boys, I don't like it. It seems that some spies are here.' But they only responded: 'Don't worry about it, they could be our mates who show us this way that everything is all right.' You know, it was very strange, I really felt it. And we came to Pilsen where we were supposed to wait for about half an hour. Thus we went to the restaurant. It was at about seven o'clock in the evening. There were many members of the National Security Corps pretending being civilians and sitting at the tables. I sat down and opposite to me, there was a man who stared at us just like at some apparition. And I told them again: 'Lads, I really don't like it. It seems to be prepared for us.'"
Inner Strength
Jaroslav Fabok - Inner Strength (data format Flash Video)
"The trial was drawing near. Well, the trial. For everything what had happened there people usually got the rope. And suddenly one basic philosophical issue came to my mind. I asked myself just - why? I didn't kill anybody, I didn't hurt anybody, and I didn't steal or break something. I just have a bit different attitude. But who could answer my question? I tried to ask myself. I didn't sleep many nights, because life was not so easy, when I was arrested. Everyone was afraid. There was nobody to lean on, nobody who could encourage you, because everybody needed that strength. So people had to look for it and find it solely in their own hearts. And I think that I had a big advantage as for my ancestors. My mother came from Siberia called 'Baľšaja Sibír', so I was used to hard conditions. Suddenly, somehow I became sure that I wouldn't be executed."
Show Trial
Jaroslav Fabok - Show Trial (data format Flash Video)
"The trial began. This show trial took five days. I looked at the prosecutor telling these words: "We don't try you here for what you actually did, but for something what you could have committed if the State Security members hadn't been so alert and watchful. And that's why I propose the death penalty.' Applause. The courtroom was crowded with soldiers who applauded intensely. Death. And only out of the corner of my eye I could see my family there, all of them hunched, as they could do nothing against that crowd of people who were like some beasts, wild animals."
Shortage of Water
Jaroslav Fabok - Shortage of Water (data format Flash Video)
"I came to the camp. And once when I came there, taps weren't running and there was almost no water. All of my friends were dirty, because they had been working in a pit without water for several weeks. They had no opportunity to wash themselves. So I said: 'How is it possible? What have you already done to solve it?' 'We had been at the headquarters and they told us that it is a regional problem.' I responded: 'Right, but I rather die like a man, not just like some cattle somewhere in a pit. I will refuse to go mining.' 'Don't be silly. It would be meaningless, you have just left and you want to go there again.' I said: 'I prefer going to the correction.' Then I worked in a mine for two days to try it without water. Simply said, it was horrible. Prisoners got some water to drink and kitchen got water for cooking, but they couldn't wash at all. And you know what uranium is. Well, probably on the third or fourth day I didn't go to work. Suddenly I heard the communication. 'Convict Fabok, go to the headquarters, immediately.' When I came there I recognized that commander. 'Fabok, why didn't you go to work, what happened?' And I told him: 'Commander, I refuse mining under the given conditions. You can kill me right now, because I don't want to die there.' He stood up, looked at me and went berserk, because he couldn't grasp it. I said: 'I refuse to go mining.' 'Fabok, don't be fool, go there and I won't report it to the chief.' And the like. I said: 'Report it to anybody, I refuse.' Of course, I had to go to the chief, but it wasn't enough. He had already known me and he used to tell me: 'Fabok, I want to have peace in the camp, so don't provoke.' He added. Right away he called political and they phoned to Prague, to the ministry. There was some man with the name Pták. They spoke to me for about an hour. And finally that Pták said: 'Do you know that you will surely get at least ten more years to your sentence?' And the chief whispered to him more loudly: 'He was sentenced to life imprisonment.'"
Revolt in the Nikolaj Camp
Jaroslav Fabok - Revolt in the Nikolaj Camp (data format Flash Video)
"Nikolaj was one unpleasant, dismal camp, hidden somewhere in forests, that stank of some gloominess. It was in a valley and everything was depressing there, it was a kind of hopelessness what people felt there. When they went to work they had chains, wires or ladders on their necks. This way they walked two kilometres (more than one mile) to the mine. When I saw this, it aroused my inner sense of human dignity. Well, after a month, when I was familiar with local conditions, I started to pressure some of my friends. I said: 'Boys, it is worthless.' You know, although they worked for one hundred and fifty or two hundred percent, it was still too little. They worked on Saturdays and Sundays. It seemed that they wanted to kill them, so I tried to agitate: 'Men, it is worthless; we would rather let them kill us immediately. But since they couldn't do that, because it is not so easy, we have to go and rebel against it...'"
"Knowledge is the key."
Jaroslav Fabok - "Knowledge is the key." (data format Flash Video)
"I could say that it was the most productive period of my life which I wouldn't change at all, because what I understood and grasped then was really priceless. It showed me new perspective. It is just like when you can't swim at all, but you know that this ability is genetically coded in humans. And when they throw you into the water, at first you are scared, but then you start shaking your body and suddenly you find out that actually you can swim. That's how I came to know under the pressure of all those circumstances that a human being has some key to reveal the information that can make him free."
The story and videoclips of this witness were put together and published thanks to the financial support of EU within the programme Europe for Citizens – Active European Remembrance.